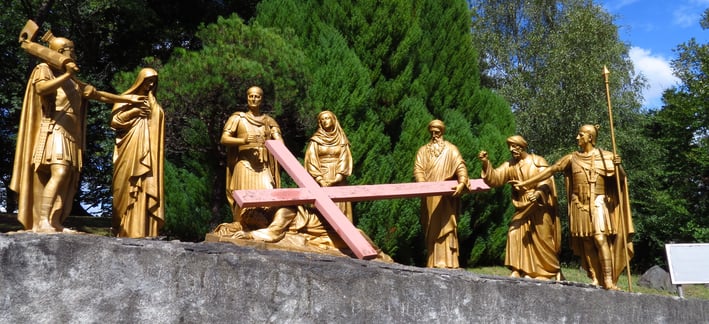 9th Station - Jesus falls a third time
We adore You, O Christ, and we praise you. For by Your holy cross You have redeemed the world.
Verse: We had all gone astray like sheep, all following our own way; But the LORD laid upon him the guilt of us all. Though harshly treated, he submitted and did not open his mouth. Like a lamb led to slaughter or a sheep silent before shearers, he did not open his mouth. Seized and condemned, he was taken away. Who would have thought any more of his destiny? (Isaiah 53:6-7)
Prayer: Lord Jesus Christ, You were close to death when You fell the third time. But You stood up and continued the journey to Calvary so you could suffer and die on the cross for me. I am sorry for the times I failed to continue my journey because things became too difficult. Jesus, I repent of all my sins. I love You with all my heart. Holy Spirit, grant me the humility of Christ, that I may love others and never rebuke or cry out against those who trespass against me. Amen.
Optional: Our Father...Hail Mary...Glory Be