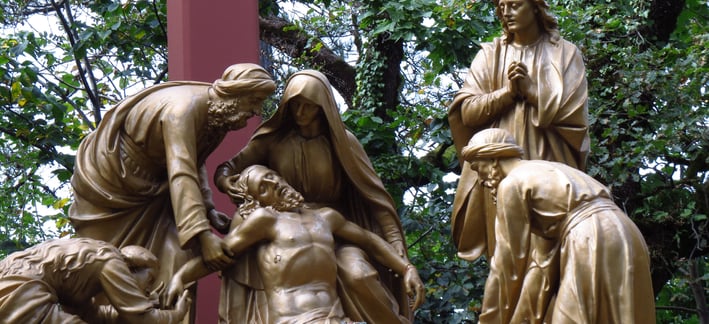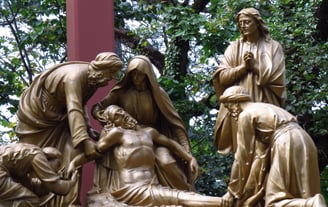 13th Station - Jesus is taken down from the cross
We adore You, O Christ, and we praise you. For by Your holy cross You have redeemed the world.
Verse: In order that the bodies might not remain on the cross on the sabbath, for the sabbath day of that week was a solemn one, the Jews asked Pilate that their legs be broken and they be taken down. So, the soldiers came and broke the legs of the first and then of the other one who was crucified with Jesus. But when they came to Jesus and saw that he was already dead, they did not break his legs, but one soldier thrust his lance into His side, and immediately blood and water flowed out." (John 19:31-36)
Prayer: Lord Jesus Christ, truly You are the Son of God. You can accomplish all things, even in ways I least expect and through people I least expect. I am sorry for the times I have failed to trust You in all things and to place everything into Your hands. Jesus, I repent of all my sins. I love You with all my heart. Holy Spirit, help me to always trust in Jesus and trust in You for strength and guidance to endure all things. Amen.
Optional: Our Father...Hail Mary...Glory Be